Post by Harley on Mar 23, 2015 9:07:46 GMT -5
Name:
Luana Marie Descartes
Alias:
Ana or Lu
Group:
Luxenbris
Sex:
Female
Gender:
Female
Sexuality:
Pansexual
Headcannon:
Mizore - Rosario + Vampire
Appearance: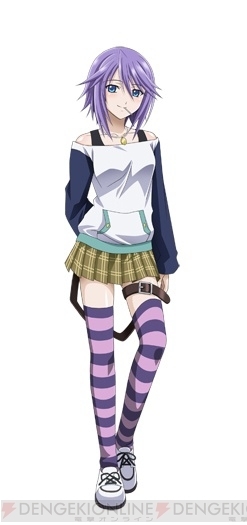 Personality:
Luana is a girl who can look and act one way but, on the inside, is completelt different. She pretends to be child-like and sweet when she enters dreams, like she is there to help, but in actuality, she is ever only there to make things worse. She has this sort of sweet persona she lets people see at first. This persona that used to actually be who she was before she turned down the darker path. She likes to try and gain trust but one thing you rarely see her do until she's ready to be her real self is touch people. A simple touch can ruin the illusion that she is a mere wispie trying to bring about a peace of mind. However, when she has gotten herself close enough, has that person believing they have someone to trust, someone in this world that could be real, be a friend, she likes to tear it away. There is a sick and cunning mind behind that childish facade. She is a true sadist, enjoying the pain of others and enjoying even more being the cause of it. She is out for number one, and that's herself. She doesn't really have any cares for people, especially dreamers or wispies. They're just pawns, after all, toys to be played with, to be tortured, there for simple amusement and nothing more. And that's how she likes things to be.
Likes:
Pain (her own and that of others). Tortute. Mayhem. Candy. Playing with Dreamers. Twisting Wispies into Luxen. Ice. Snow. The night. Mountain peaks.
Dislikes:
Losing. Heat. The day. Bright lights. Sour things. People not playing along correctly. Goody two-shoes. Wispies. Most dreamers.
Fears:
What would happen when everyone wakes up because she isn't sure her spirit will be able to carry on in the real world
History:
Luana grew up in Quebec, Canada and she remembers how much she used to love the cold, harsh winters. How she used to play in the snow, have fun, feel like she could create anything! She remembers, vaguely, going to Dream Therapy as well. She used to suffer from panic attacks and often had suicidal ideations growing up. The root of the problem had come from the abusive nature of her older brothers. Her parents never believed her, refuses that their perfect boys could be anything but angels. And that used to hurt her quite a bit. Until one day, all the pain went away, the day she perished to the Grand Plague. At first, entering the dream world as Wispie, she felt free, felt like she barely remembered feeling as a child. She often found dreams where the weather was cold, where she could help recreate child-like fantasies that included castles of ice amd snow. And for a month or so, it was wonderful. Until she met her first Luxenbris in a dream belonging to none other than her wretched older brother, Alexander. He didn't quite seem to remember her, though. How could he not remember her? He had been one of the things that had ruined her life! The Luxen saw this anger in what was supposed to be a spirit of peace and good luck and he used that same anger to twist Luana's innocence into a monster, a Luxenbris. And her first tortured victim was her brother. She's been spending the rest of her time as a Luxen, slowly becoming darker, more and more twisted. The little sadist that no amount of therapy had been able to fix slowly showing through more and more.