Post by Deleted on Mar 26, 2015 19:51:44 GMT -5
Name:
Sable Ethan Mercier
Alias:
Sable
Group:
Dreamer
Sex:
Male
Gender:
Male
Sexuality:
Pansexual
Headcannon:
Seto from Mekakucity Actors
Appearance: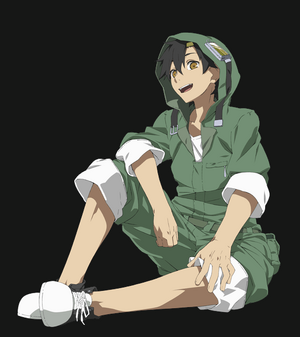 Personality:
Sable is a clever boy with a knack for solving problems quickly. Well, sometimes too quickly. He has a tendency to jump to conclusions, and can be very rash. With the best intentions in mind, he can easily make the situation worse by jumping to a solution without thinking of the consequences. Despite his failures, he is still confident in his abilities and is determined to become better. This confidence in his abilities add to his narcissism. He thinks highly of himself and his achievements, and tends to exaggerate his own successes. And he absolutely adores using these successes to flirt, which he does often. He would flirt with a rock if he was bored enough.
Sable is extremely loyal to his clan, and would never dream of doing anything to betray them. Whether it be a friend, boyfriend, sibling, or acquaintance, he will stick by their side through thick and thin, until the end. He is very aggressive when devising plans, especially when they are directed at other clans. He is not afraid to use his fiery fists or quick wit to win an 'argument,' though dislikes hurting others all the same. He can be unpredictable, and does things without warrant and reason just because he 'wants to.' This also is another reason his stupid mistakes seem common, despite his cleverness.
Sable has a natural curiosity of the world and what happens in it, and will go to lengthy ends to discover the world's secrets. He would climb to the ends of the earth to learn. This boy would be the first to plunge into a freezing lake in the middle of the night, or to climb up something that is not meant to be climbed upon just for the sake of doing it. Though he often fails, he still learns something in the process. Unfortunately, he tends to forget many of the things he learns, or at least the details. This can cause him to do his idiot schemes over and over again.
Likes:
People, Flirting, Green, Pizza, Couches, Parties, Close Friends, Telling Secrets.
Dislikes:
Vegetables, Strange People, Change, Boredom, People Stronger/Better/Cooler than himself.
Fears:
Cars, Loosing, Being Made Fun Of, Hurting Others When He Did Not Intend To, Being Accused of Something He Didn't Do.
History:
Sable was born into a rather average Midwestern American family. He lived in Indiana, his house sitting right in between two corn fields. He liked the solitude, though. He enjoyed spending time alone and away from others. Talking to others made him nervous, but he refused to believe that he had social anxiety. He could talk to others easily, as long as it was about something specific. He was just not too talented at small talk. School had always been difficult for the boy, but his older brothers often helped him with his homework. Sable was hardly the best at most classes in school, specifically math, but he knew he was smart. He was just not being tested in the right ways. He had three older brothers, each two years older than the one before. He always thought he had been lucky to have older brothers instead of sisters. He always thought that they understood him better. Despite his closeness to his siblings and family in general, he still wished that he could get over his fear of having simple, stupid conversations with others. He craved friends.
He got what he wanted, but not in the way he had expected. He was walking to school when he saw a commotion being caused across the street. A girl in a blue dress, one that was probably close to his age, held her books tightly to her chest. Two older boys followed, their eyes trained on the back of her head, and their faces split into sneers. One of the two trotted ahead, and stood in the girl's way, and he seemed to say something. The little red haired girl's eyes went to her feet, as she stopped. Her mouth moved. The boy behind her put his hands on her back and shoved hard. She flew into the boy in front of her, who then pushed her back to the other boy. They continued this twisted game of toss, their words growing louder and their smiles widening. Sable could catch some of their words now, cruel things that he would never have said to anyone. He watched helplessly as the girl was pushed back and forth, her books falling out of her grasp and clattering to the floor as she was thrown back and forth. Tears fell down her face like raindrops.
Sable refused to stand by and watch this torment. He may have been afraid to talk, but he still had morals to live by. He knew that if he ignored it and kept walking, doing nothing, he would regret it for the rest of his life. He stormed across the street, his eyes blazing with fury and righteousness. He reached the other people, his hands balled up into fists. "Stop it," He said quietly. One of the boys stopped, letting the girl fall to the floor in a heap of tears and blue fabric. "What did you say?" The boy sneered. Sable's face hardened. "I said stop being so mean." Sable said a bit louder. He tried his hardest to not let his voice quiver, but it was difficult for the meek boy. The other boy turned to Sable, also seeming to forget the girl. "It seems that we have another pansy to deal with," He laughed cruelly. Sable steeled himself for what he knew was to come, and his shoulders tensed. "Just leave us alone." Sable tried his hardest to be strong, fearless, but his voice betrayed his words as a plea. The boys laughed. "We're not going anywhere, weakling," A boy said as he stepped closer to Sable.
A fist flew. It had surpised everyone there, even Sable, that it had been his own. It hit the boy square in the jaw, and he stumbled back a step before turning to the other boy. It was obvious that he had never been hit like that before, especially not by a weak little boy such as Sable. "Come on, school is starting soon" The boy said, trying to remain tough sounding. The other boy rolled his eyes and gave Sable a hard push before they ran off. Sable fell. He would never again forget that his fists would always be louder than his words.
Sable laid on the grass for a couple seconds before sitting up. His eyes searched for the girl, who was rummaging through the high grasses in search of her books. She managed to find one, but the other two seemed as though they might be lost forever in the weeds. Sable crawled up to her and peeked under a bush. "What are you doing?" The girl asked, his face still wet with tears. "Searching for your book," Sable replied shakily. The girl looked at the ground for a few moments before turning back to the black haired boy that sat in front of her. "Thank you" She said bashfully. He turned to look back at her. "No problem, I won't let them bother you again, don't worry," Sable said. He was not sure if he could keep that promise, but he would try his hardest. The girl's eyes strayed to the dirt again. It seemed that she was just as shy as Sable was. "I'm Ella." "Nice to meet you! I'm Sable."
It was almost as though they were instantly connected in some strange way. It was almost as though Sable's shyness melted away when he was around Ella. They went everywhere together from then on. The bullies returned a couple times, but Sable's brothers managed to chase them off before they could get their revenge. Everything was perfect. He had a friend, a family, a wonderful life. His grades began to improve as though by magic, but it was actually because Ella had begun to tutor him in math. She was an A+ student, and helped Sable with his lessons far more than any of his siblings had.
One day, they were playing in the front yard. Sable's mother sat on the porch, her eyes glued to a book. She adjusted her glasses and continued reading. She had come out to keep an eye on the children, but she knew that they were certainly old enough to not be watched constantly. Living with 3 brothers taught Sable a lot about sports, and he loved to play with Ella. She was not very good, but Sable was glad to help her learn something new when she had helped him so much. They were playing soccer. The white and black patched ball flew across the yard as the pair dashed after it. It was one on one. One goal was Sable's mother's car, the other was the front porch. Sable was winning 4 to 1. Ella was never given a chance to catch up. The ball soared around her, and she turned quickly and ran after it. Sable was not about to lose so easily, so he also sped after the patched ball. They ran right through the yard. Right into the road. Right into the headlights of a truck.
Right into an emergency room.
It had been a hit and run. The two kids had been hit by a speeding truck while chasing that ball. Sable had broken two ribs, his leg, and had deep lacerations across his face, arms, and chest. But Ella had gotten the blunt force of the car, as she had been closer to the ball when they were hit. Among various injuries, her skull had been crushed. She was dead by the time the children were found.
Sable fell into depression. His body slowly healed, but his face, arms, and chest were all scarred badly from the cuts he had received. His broken bones took far longer to heal, but they did eventually. But nothing made his feel better. He hated sports, his brothers, his mother, himself. He should have been further ahead. He was the one who should have died. By the time he went back to school he was extremely far behind. His grades were worse than they had ever been, mainly because he no longer tried at all. And the stares… the stares were the worst part about school.
Home was not much better than school. Sable's anger exploded on everyone nearby, including his brothers and parents. He would lash out, using both his words and his fists to get his points across and to take out his anger. His brothers soon started to avoid him. Meanwhile, his parents began fighting. Sable's father was furious at Sable's mother for not watching them carefully, but she continuously countered that he would have done the same thing. It was a couple months later than his mother moved out. They signed the divorce papers not long afterwards.
Sable started seeing a therapist. Little happened, because the dark haired boy hated the place so much. But as soon as he was put into dream therapy, his thoughts changed. The scars were gone, and so was at least some of the anger. Sometimes, he would even see Ella in his dreams. He began to look forward to sessions. It was the only thing he looked forward to. He was put under and strapped into the machine. He was clueless to the fact that, while he was asleep, the world was in chaos. He never left the device, but he did not care. How could one care if they didn't remember?